World Bible Training Institute (WBTI) offers one track, the School of Ministerial Excellence and the School of Ministry Training: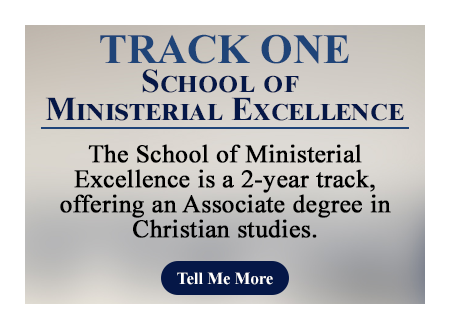 For more detailed information, you may also 
CLICK HERE
to download a copy of the WBTI brochure.
Course Curriculum At-A-Glance
TRACK ONE
School of Ministerial Excellence

BBL101 Old Testament Survey
BBL102 New Testament Survey
PRM 101 Called and Qualified for the Ministry
PRM 102 How to Minister to the People
SOC 101 World Religions
THE 101 Redemptive Realities
THE102 Foundational Doctrine of Christ
THE103 Pneumatology
 
This track spans 2 years. Classes are held on Monday's from 6:00 PM – 9:00 PM, and each course spans over a 10-week period. Student orientation is Monday, August 26, 2019 and class starts Monday, September 9, 2019.
Don't miss out, apply today.  A non-refundable $75.00 processing fee is due at the time of application submission.